About Us: Your Personal Fitness Trainers
How are we Different From Other Workout Facilities?
Specialization With Adapting Workouts for Clients Over 35
Expert Personal Fitness Trainers in Exercise and Movement Correction
A True One on One or Small Group Personal training Experience
We Constantly Adapt and Learn as we Keep on Top of the Most Innovative Personal Training Available
Keep You Consistent by Having You Set an Appointment.
Heart rate monitored workout!
---
Specialization With Adapting Workouts for Clients Over 35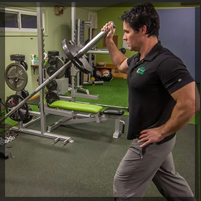 If you are over the age of 35 or 40 you realize that you cannot train like you did when you were 20. Here at David McIlhenney Fitness Studio we get that, and we can tailor your personal training in Lyme for your specific needs. If you are currently training and feel as if your program is getting you hurt, we can help. We understand the unique needs of people as they get older. Since we have experience with clients that have had multiple physical limitations, we can take on almost any challenge you may have. *
"I've gone to other facilities and they sometimes ignored my inability to do a movement they just tell me to suck it up. others are doing it. But now, with David and Jake, every time I have a problem with a movement, they adapt or change the exercise to my ability. It's a refreshing change"*
Cathy Patterson
---
Experts in Exercise and Movement Correction
If you are currently training and not realizing that your movement may not be what it should be, you could be asking for injury no matter what your age. We are experts in looking at your movement patterns and using advanced techniques to correct any movement imperfections you may have. As a result, you prevent injury, get stinger more mobile and reach your goals faster. *
"Jake and David have an ability to look at your imperfections and figure it out as a team"*
Rob Goldberg
---
A TRUE One on One or Small Group Personal Training Experience
When we say personal training we mean it! We are paying attention to you 100% of the time in a one on one session. We examine your movements make corrections and adapt the training session to how you are feeling each and every session. Since our team personal training tops out at only 4 people, you are assured that you will get the attention you need fomr your personal fitness trainer.*
"They won't let me get away with anything! I can't cheat at all! They are on top of everything I do. They don't miss a trick!"*
Kathy Mason
---
We Keep You Consistent
We set our schedule around your schedule! Whatever time you can do we can do. All you have to do is set up a time and we will meet you at the studio at that time. Email, Text or just call if you have to make a change. If you haven't been in for a week expect an email, text or phone call from us. We will not let you be inconsistent. Most gyms let you sign up and hope you never come in. With us, it is the opposite. We view our success with your success, not just how many people are signed up.*
"Why can't you just let me pay you and alone like other places. I've never been to a place where they keep you so accountable!"*
Carol Quelle
---
Total Client Base of 80 to 90
Based on the factors that make us different, comes with a cost. We are just unable to keep our high standards without limiting our total client base to 80 – 90. As a result, if you have room for you, you will receive all of these unique benefits. However, if we are booked you may have to wait until we have space open again.*